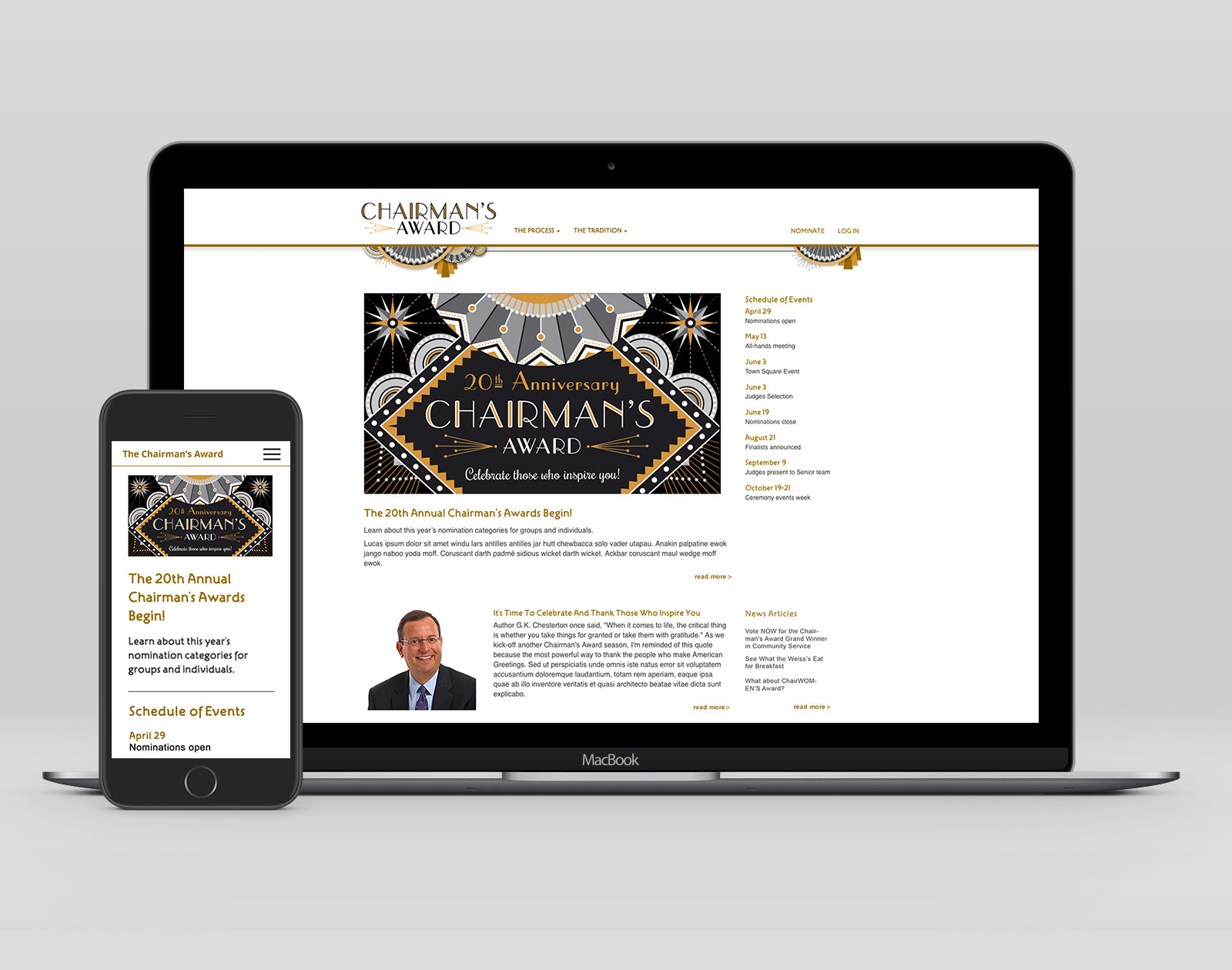 The Chairman's Award is a yearly recognition program that seeks to honor and reward those American Greetings employees that have inspired and excelled over the past year. The previous year's site was not flexible to the changing needs of the program nor was it accessible. The Chairman's Award Committee decided to invest in a new accessible website that could be updated easily and customized to match each year's theme.
• The site had to be accessible year-round, so as to be the main source for all things Chairman's Award.
• The site had to include the nomination forms for both the nominator and the nominee, complete with saved progress and file upload capabilities.
• The site had to be self-serve, with both the customer-facing and administrator interfaces being fully editable.
• The site had to be responsive, accessible, and with a secure login.
My Role and Responsibilities
I assumed the role of both UX and UI and was responsible for research, concepting, wireframing, full-color mock-ups, asset creation, and UI style guidelines.
I started by analyzing the past websites to pinpoint issues and opportunities for improvement. Then I met with the design and web engineers to discuss the possibilities and limitations involved with building a site that's entire structure had to be flexible to unknown content, and therefore not managed by a designer or engineer. With requirements in-hand, I built out the site map and sketched a first round of low-fidelity wireframes for both desktop and mobile.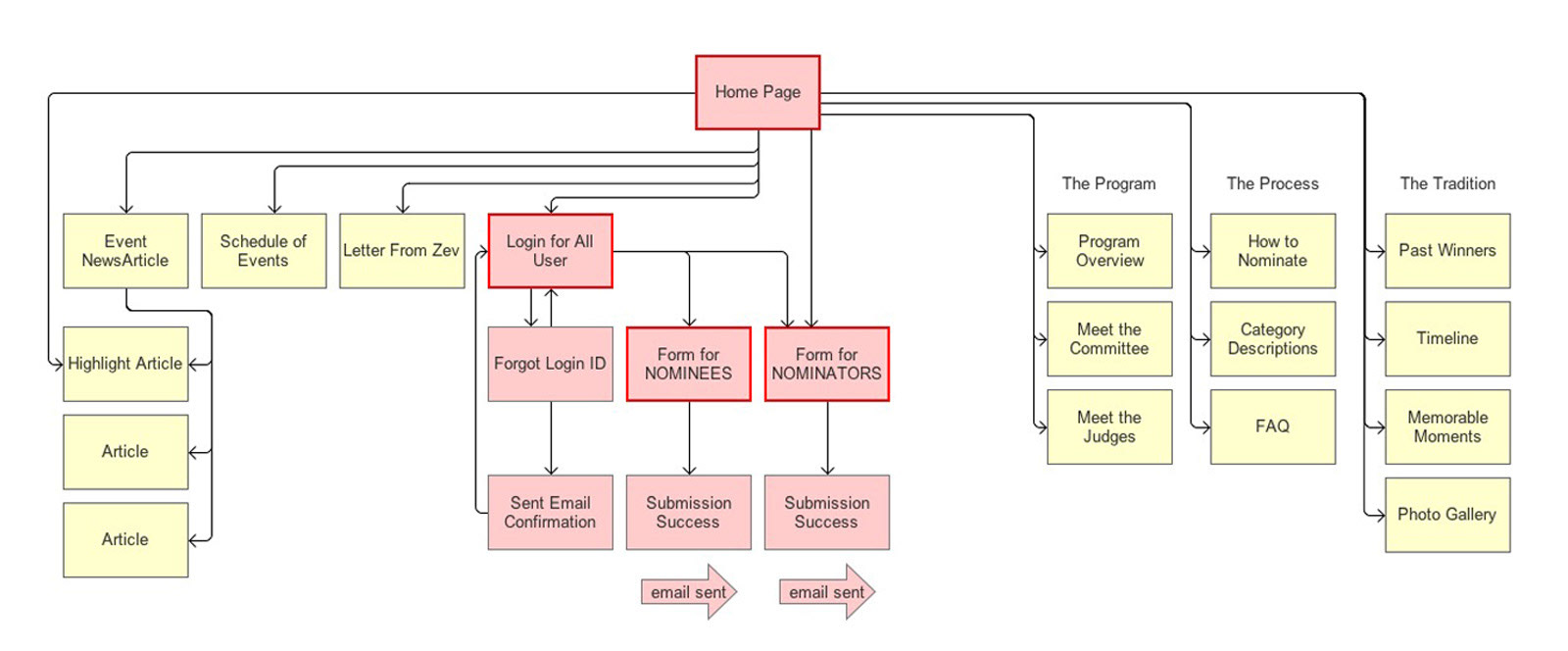 Low-Fidelity Sketches of Home Page, Nominator and Nominee Form for Desktop and Mobile
Once the site map and wires were approved, I made high-fidelity wireframes that also served as design mocks.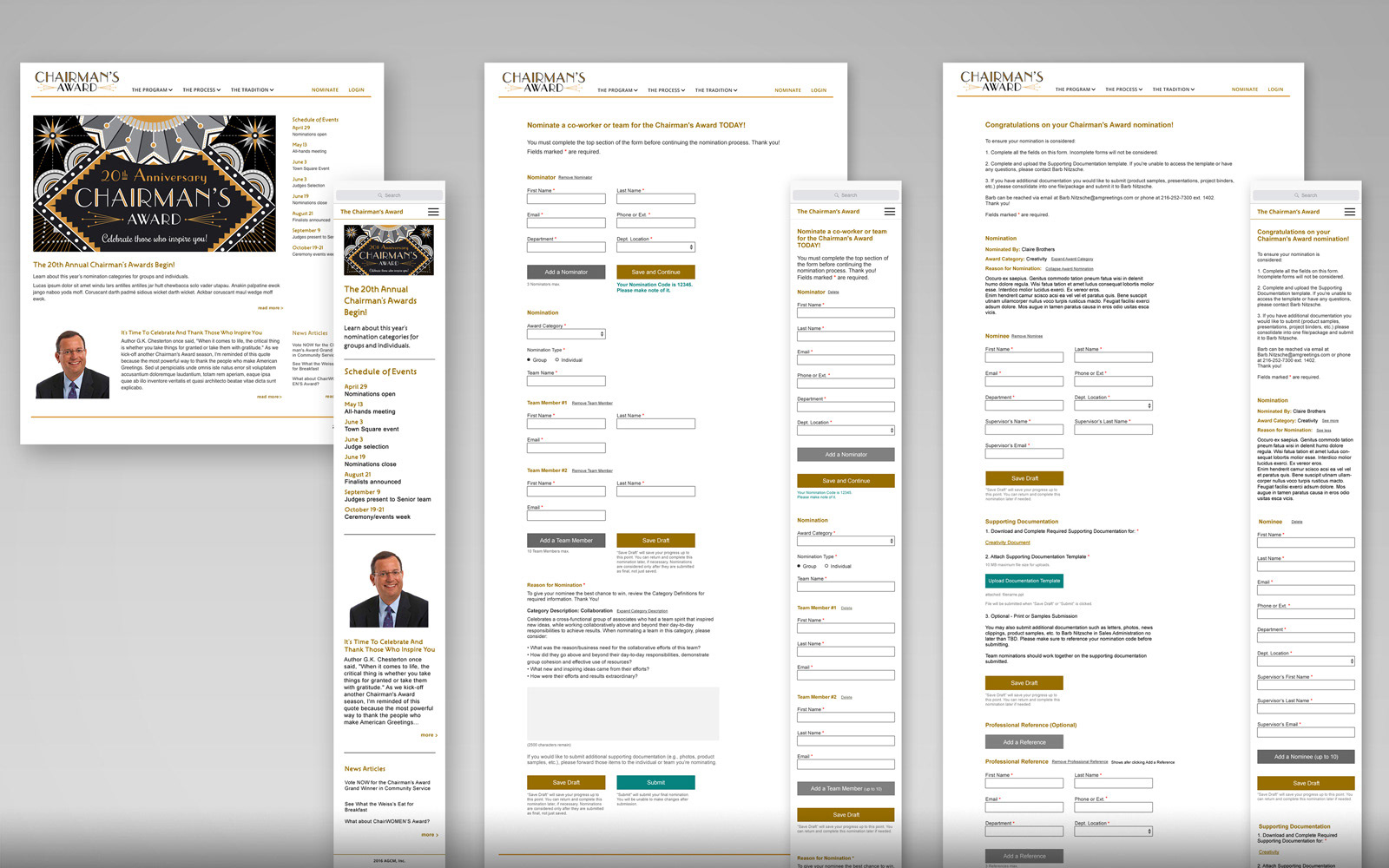 High-Fidelity Mocks of Home Page, Nominator and Nominee Form for Desktop and Mobile
The theme of this year's program was being created simultaneously by an illustrator, and I met with him frequently to get information on color palettes and visual themes that I translated into a UI style guide.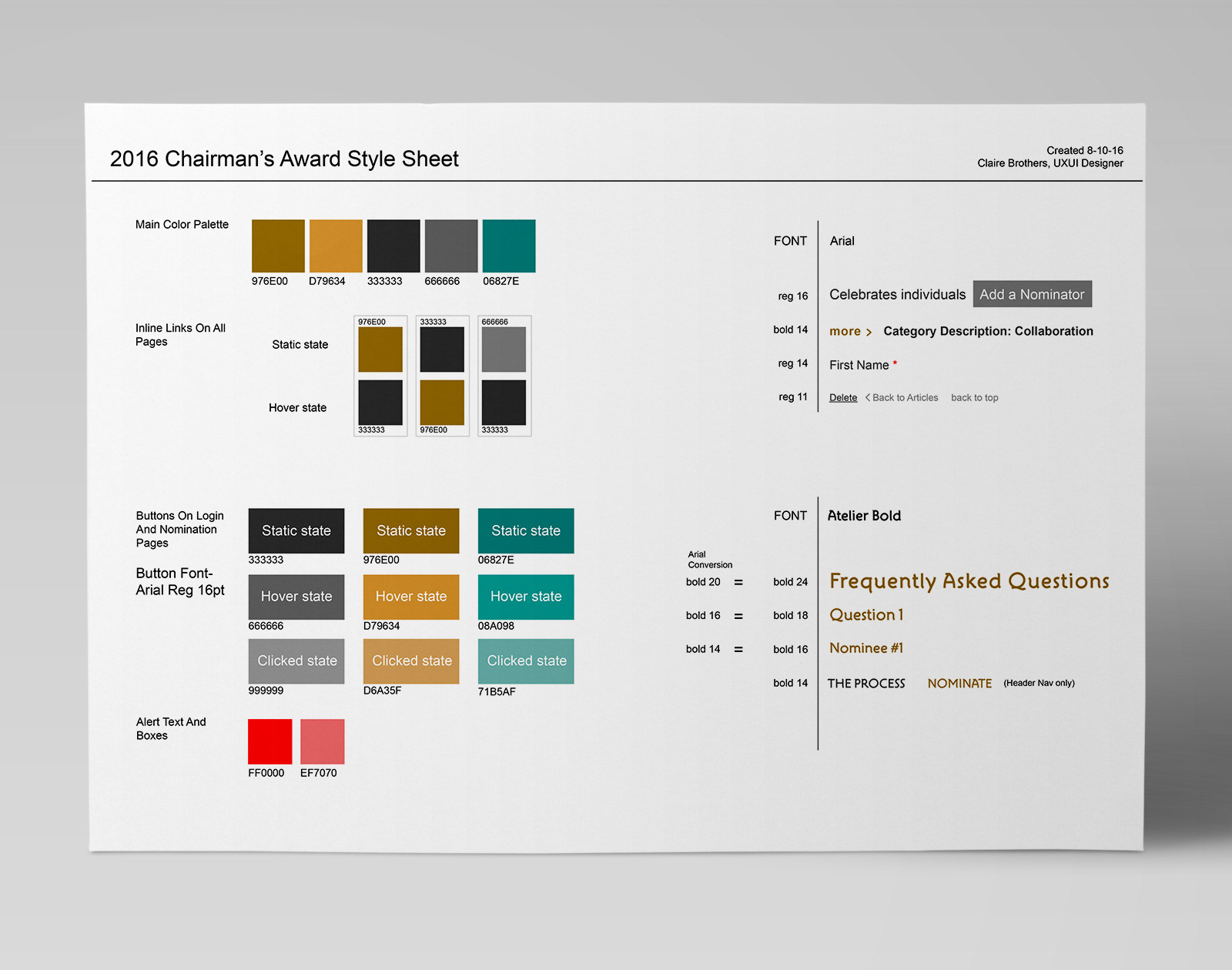 Because almost everything about the site could be edited, I worked with the design engineer on a set of site guidelines for administrators to follow in an attempt to preserve the intended functionality and layout of the site.
The final result was a completely redesigned, responsive web experience that communicated to its users the full scope of the 20th Annual Chairman's Award program. The entire nomination process was now digital and accessible to all users, regardless of visual or audio impairments.
Initial feedback was positive, with a 20% increase in completed nominations over last year. A list of learnings has already been started for next year's improvements.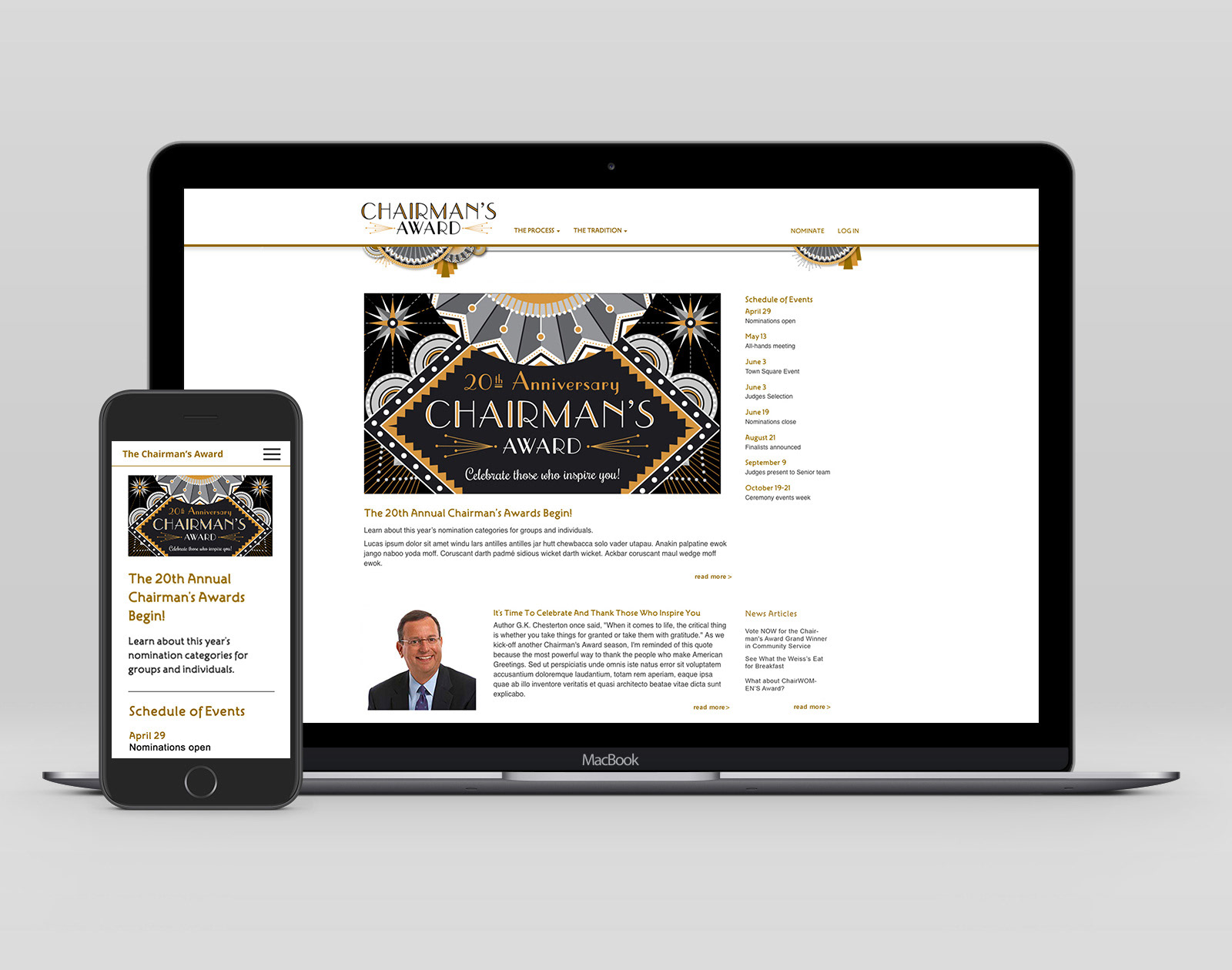 Final Site, Desktop and Mobile
This being my first major UX/UI project outside the classroom, every single step was a learning experience, and a humbling one at that. I learned quickly that real UX projects don't always follow the ideal timeline, or leave room for interviews, surveys or testing, which meant that I had to leverage the expertise and knowledge of others, and think critically to solve problems with minimal data available.